Floor Inlays and Inlaid Flooring

PrecisionStone™ inlays are the ideal complement to hardwood and marble flooring borders, medallions, tiles, parcquets, and baseboard moldings…
…which are an ideal complement to PrecisionStone™ inlaid cabinetry or casework.
Contact us for pricing and information regarding our ready-to-install inlaid flooring borders and integrated flooring 'tile' accents.
Seclay's unique inlaid floor 'tiles' are a concept similar to floor borders except that, instead of surrounding a flooring layout, they are sized to fit anywhere within the perimeter in any number or arrangement – without requiring any special cuts or notching of the surrounding boards. Think of them as a cross between borders and medallions that can be interspersed throughout the planned layout. The examples shown below illustrate the concept with simple rectangular inlay designs however the stone can be inlaid in any pattern desired.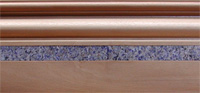 …and for baseboard to match, go to our Molding page
below: an assortment of inlays in various species of hardwood